Award Certificate Template
Warning
: fopen(/tmp/phpfastcache/athenseaglewings.org/Files/9c/42/9c426a81042fca651b1ef482e0ae5100.txt): failed to open stream: No space left on device in
/var/www/html/athen/system/libraries/phpfastcache/vendor/phpfastcache/phpfastcache/src/phpFastCache/Core/Pool/IO/IOHelperTrait.php
on line
304Warning
: fwrite() expects parameter 1 to be resource, boolean given in
/var/www/html/athen/system/libraries/phpfastcache/vendor/phpfastcache/phpfastcache/src/phpFastCache/Core/Pool/IO/IOHelperTrait.php
on line
305Warning
: fclose() expects parameter 1 to be resource, boolean given in
/var/www/html/athen/system/libraries/phpfastcache/vendor/phpfastcache/phpfastcache/src/phpFastCache/Core/Pool/IO/IOHelperTrait.php
on line
306Warning
: fopen(/tmp/phpfastcache/athenseaglewings.org/Files/9c/42/9c426a81042fca651b1ef482e0ae5100.txt): failed to open stream: No space left on device in
/var/www/html/athen/system/libraries/phpfastcache/vendor/phpfastcache/phpfastcache/src/phpFastCache/Core/Pool/IO/IOHelperTrait.php
on line
304Warning
: fwrite() expects parameter 1 to be resource, boolean given in
/var/www/html/athen/system/libraries/phpfastcache/vendor/phpfastcache/phpfastcache/src/phpFastCache/Core/Pool/IO/IOHelperTrait.php
on line
305Warning
: fclose() expects parameter 1 to be resource, boolean given in
/var/www/html/athen/system/libraries/phpfastcache/vendor/phpfastcache/phpfastcache/src/phpFastCache/Core/Pool/IO/IOHelperTrait.php
on line
306Warning
: fopen(/tmp/phpfastcache/athenseaglewings.org/Files/9c/42/9c426a81042fca651b1ef482e0ae5100.txt): failed to open stream: No space left on device in
/var/www/html/athen/system/libraries/phpfastcache/vendor/phpfastcache/phpfastcache/src/phpFastCache/Core/Pool/IO/IOHelperTrait.php
on line
304Warning
: fwrite() expects parameter 1 to be resource, boolean given in
/var/www/html/athen/system/libraries/phpfastcache/vendor/phpfastcache/phpfastcache/src/phpFastCache/Core/Pool/IO/IOHelperTrait.php
on line
305Warning
: fclose() expects parameter 1 to be resource, boolean given in
/var/www/html/athen/system/libraries/phpfastcache/vendor/phpfastcache/phpfastcache/src/phpFastCache/Core/Pool/IO/IOHelperTrait.php
on line
306Warning
: fopen(/tmp/phpfastcache/athenseaglewings.org/Files/9c/42/9c426a81042fca651b1ef482e0ae5100.txt): failed to open stream: No space left on device in
/var/www/html/athen/system/libraries/phpfastcache/vendor/phpfastcache/phpfastcache/src/phpFastCache/Core/Pool/IO/IOHelperTrait.php
on line
304Warning
: fwrite() expects parameter 1 to be resource, boolean given in
/var/www/html/athen/system/libraries/phpfastcache/vendor/phpfastcache/phpfastcache/src/phpFastCache/Core/Pool/IO/IOHelperTrait.php
on line
305Warning
: fclose() expects parameter 1 to be resource, boolean given in
/var/www/html/athen/system/libraries/phpfastcache/vendor/phpfastcache/phpfastcache/src/phpFastCache/Core/Pool/IO/IOHelperTrait.php
on line
306
athenseaglewings.org -Award Certificate Template Certificate of Award (Elementary students) PowerPoint Certificate of achievement (green) PowerPoint Certificate for Employee of the Month (blue chain design) PowerPoint
Printable Award Certificate Templates
SAVESource: www.sampleprintable.com
43 Formal And Informal Editable Certificate Template
Customize 534+ award certificate templates online. Create awards worth keeping with Canva's collection of certificate templates you can customize by adding photos, icons and images straight from our massive media library.
Award Certificate Template
SAVESource: holidaymapq.com
Award Certificate Template certificate templates. Professional training certificate templates to help you creating a certificate that is credible and beautifully designed. An in-house corporate training program, an accredited qualification or a memento or keepsake – whatever the reason, find the best layoout for your needs.
Royal Award Certificate Template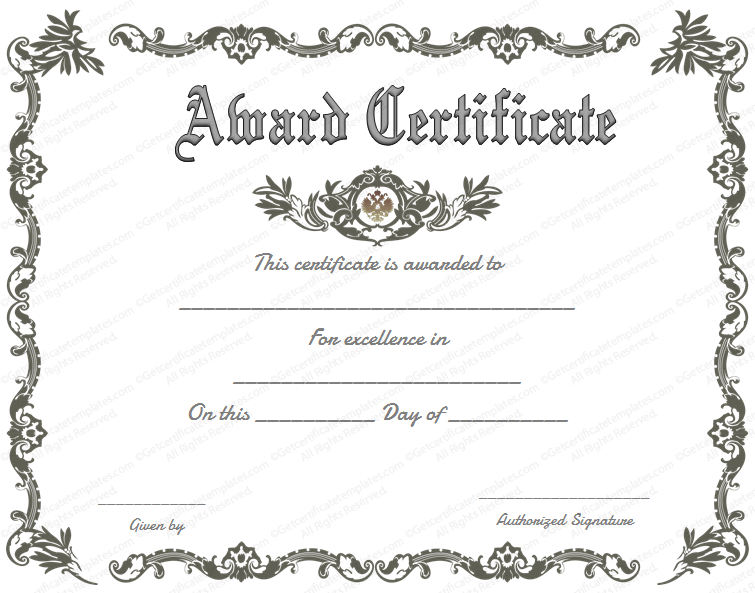 SAVESource: www.getcertificatetemplates.com
Image info:
Resolution: 600x464
Size: 132kB
Certificate templates. What are Certificate Templates? Certificate Template is an editable pre-made award design for any kind of learning course, event, competition or celebration.
29 Printable Award Themes Certificates
SAVESource: blankcertificates.net
most popularAward Certificate Template ideas for 2018. BrowseAward Certificate Template designs and decorating ideas. Discover inspiration for yourAward Certificate Template remodel, including colors, storage, layouts and organization.
Top Suggestions ofAward Certificate Template
Certificate of Achievement, Award Certificate Template Microsoft Word, Award Certificate Template Psd, Microsoft Word Certificate Template, Certificate of Appreciation, Award Certificate Template Borders, Certificate of Appreciation Templates, Blank Certificate Templates Editable, Downloadable Editable Appreciation Template Certificate, Participation Award Certificate Templates
More Pictures from Award Certificate Template